Capital for Growing Companies
We have been fortunate to invest in many exciting and successful growth companies. We have a unique approach which considers shareholder needs, company capital requirements and managements' objectives.
We invest in growing companies with strong market momentum and business models that can scale profitably. These companies compete in dynamic markets and our management teams face no shortage of tough decisions. Partnering with W Capital should not be one of them.
We back our management team's strategic initiatives and growth plans by offering continued support and growth capital throughout the life of the investment. We also give companies more time and resources for value creation by providing shareholders with exit flexibility.
Our investment philosophy is to:
Support management's growth strategy through expansion capital, shareholder liquidity programs and strategic advice
Provide shareholder liquidity solutions within the existing capital structure
Achieve long-term alignment among shareholders, management and employees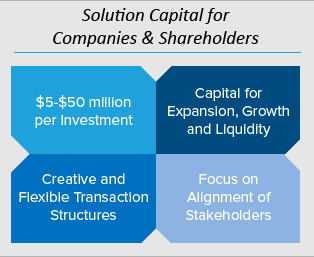 Combining Growth Capital & Liquidity
Our investment philosophy is to form a partnership with management and existing shareholders to offer solution capital that aligns shareholders and funds growth opportunities. With over 80 transactions completed and board involvement at over 50 companies during the past 13 years, we value our reputation as a strong financial and strategic partner and believe that offering flexible capital solves the short-term challenges of growing a business while achieving long-term alignment to grow shareholder value.
W Capital offers our companies:
Access to a fully committed, single source of capital for both growth or shareholder liquidity
A partnership that extends a company's runway by providing both the time and resources available to management and allows a company to achieve an optimal long-term exit
Support and strategic advice in developing and pursing growth strategies, executing on acquisitions and accessing capital markets
Simplified capital structure management and shareholder visibility